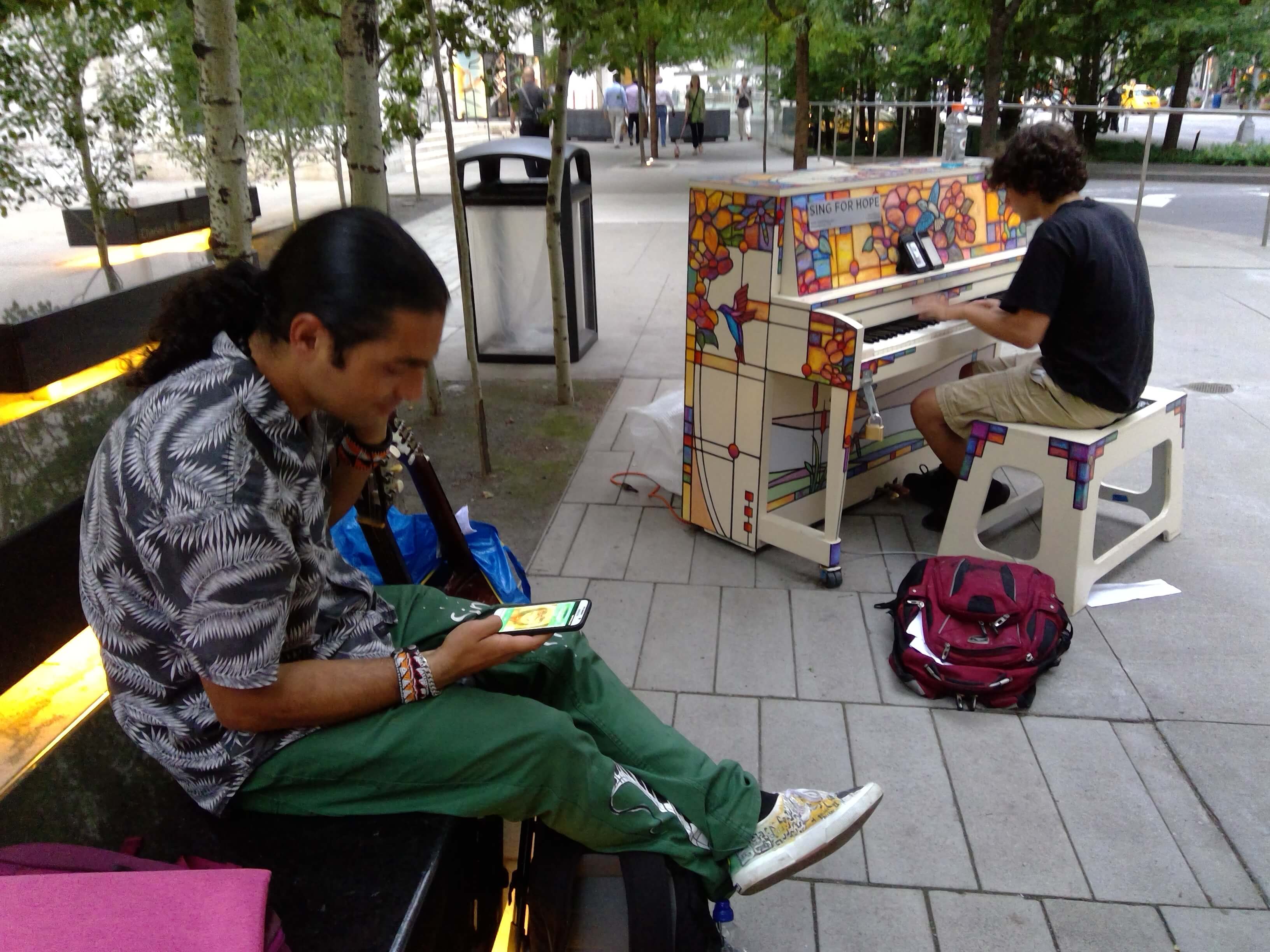 Trip to New York 18-Sing a song-

June 9-21 2019 in New York
Meeting at Central Park
2019/06/17, the ninth day of stay.
The weather is rainy. Inspired by the photos of Fabio, today I wanted to take photos of animals and nature slowly in Central Park.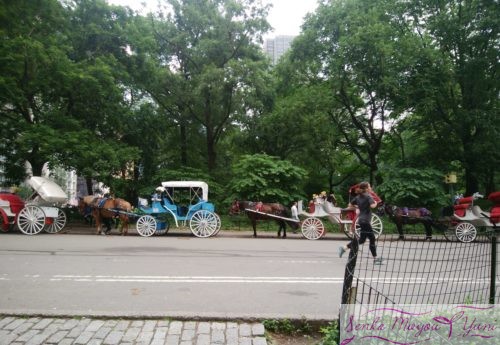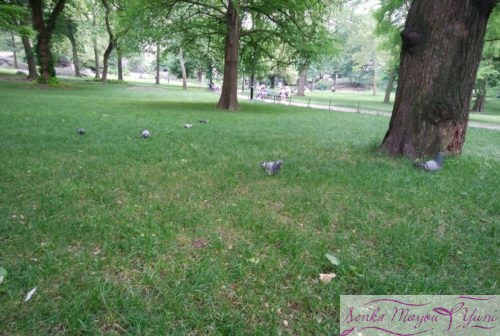 I wrote before, but it is a park with many squirrels too. Because the squirrel is alert and flee, it is very difficult to take a picture with a camera without zoom. I want a good camera for this kind of time.😱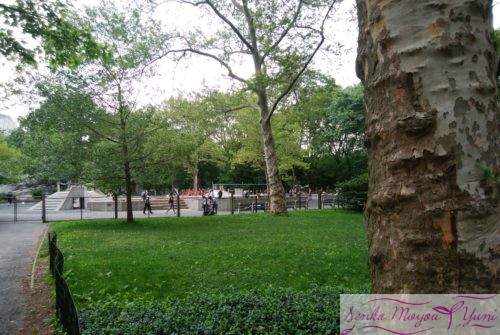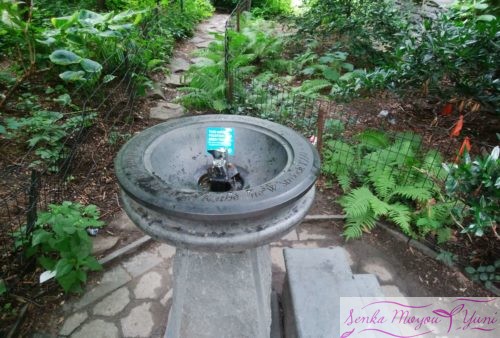 I heard that there were a lot of Sing For HOPE pianos installed in various places in New York, and I also knew that they were installed in Central Park. But I did not know where in the vast Central Park it was located.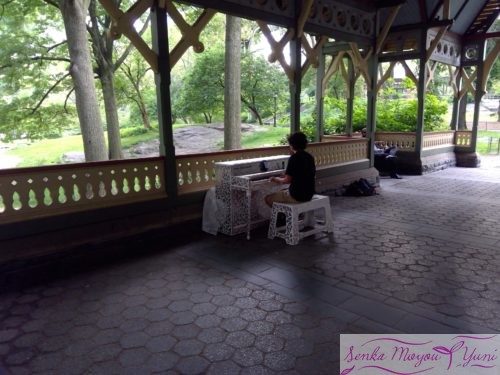 While taking a photo while taking a walk, I found a silvery piano!
I did not know that there was a piano in that place, but I was able to quickly find it, as guided by my destiny. And my encounter with "Sing For HOPE" brought me to meet new friends.✨
There was a boy who was singing happily while playing the piano, so I sat on a nearby bench and took pictures while listening to his song.
His songs and pianos are in harmony with the beautiful nature of Central Park and very beautiful!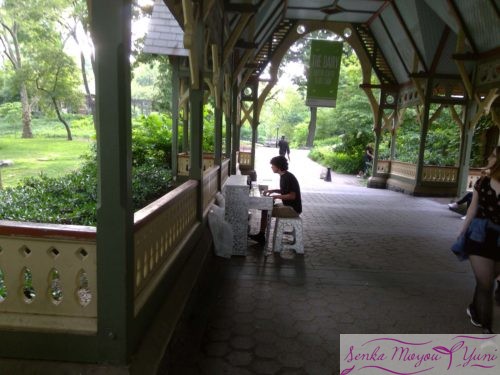 However, since the car does not pass here, the noise is reduced, but there are not many people coming and going, and therefore there are not many people who listen to his piano.
If it is a piano of Lincoln Center, many people can hear his piano.
If he could play with Fabio on the piano at the Lincoln Center, it would be a great time for him too.
I wanted to introduce him to my friend Fabio, so I decided to talk to him.
His name is Alex. 15-year-old boy. When I was trying to speak English, he spoke in Japanese saying that I could understand Japanese.
I tried to speak in English as much as possible so as not to burden him too much, but after all it is difficult😱
With the help of Alex I was told what I wanted to convey. Then we went to a place where there was a piano in the Lincoln Center.
Thank you Alex!
To Lincoln Center
Arrived at Lincoln Center, the time is 07:00 pm.
The piano was still covered. Oops😱💦
Naturally, the lid of the keyboard was locked, and I could not open the lock even if I removed the cover.
The promised time with Fabio I heard yesterday was 9 pm. If he can't play the piano until then, i have to apologize to Alex who came with me.😭
I tried to send an email to Fabio but I couldn't get in touch. What can I do for Alex now?😱
When I emailed my friend Marcie and asked if I could contact Fabio, I received a reply saying that Fabio would arrive at Lincoln Center at 08:00 pm.
Thank you Marcie!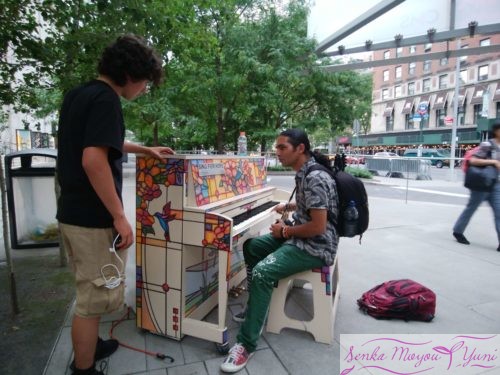 At 08:00 pm, Fabio arrives! Yay!✨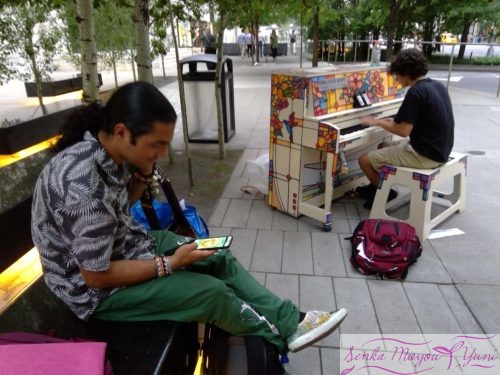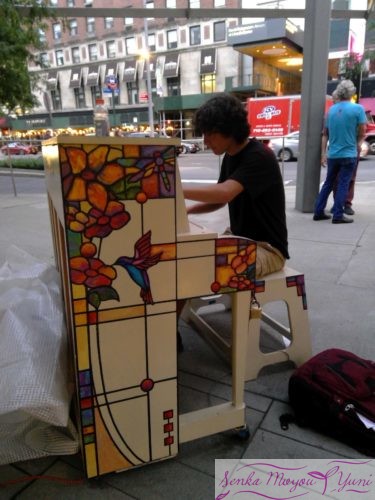 This place has many people who stop and listen because the tone of the piano can easily reach the people of the city.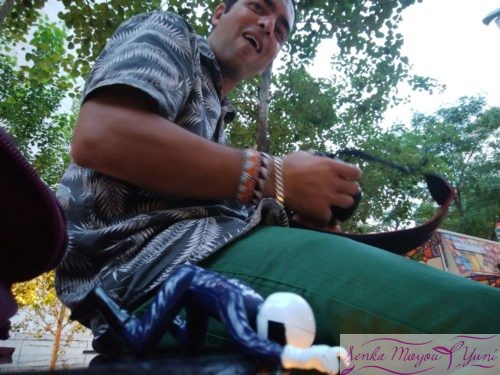 This is a Fabio toy. He does a dangerous job of climbing on a tree and posing when Fabio takes a picture.😂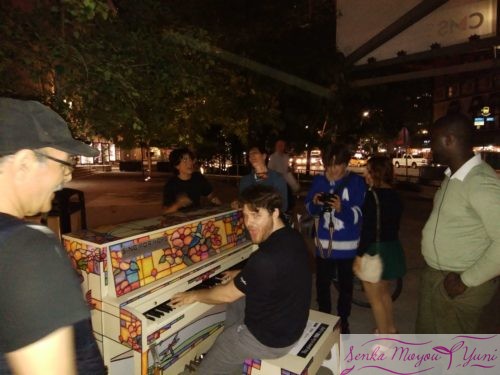 Gradually the sun goes down and friends start to gather. They love music and friends sincerely.
The man playing the piano is Jeff.His music is beautiful and powerful. We were fascinated by his music and sang many songs.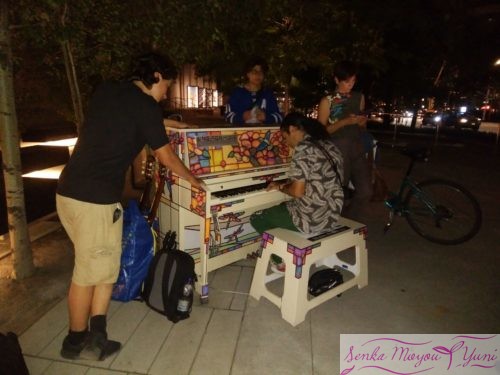 Fabio's piano plays a very delicate sound, which makes the mind imagine various images. I love his music.🎵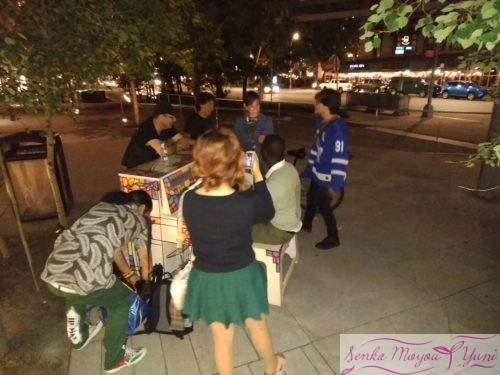 Men in blue clothes are Aamer. Very bright and kind person. When we sing, he energize everyone and always enjoy it when we talk. I think those who can be by his side will be happy.
The woman in the green skirt is Aamer's girlfriend. I missed the timing to ask her name, so I would like to ask her name if I have the opportunity to meet her next time.
When she was singing, I felt that her voice was speaking towards our hearts.I wanted to hear this voice in a quiet theater setting.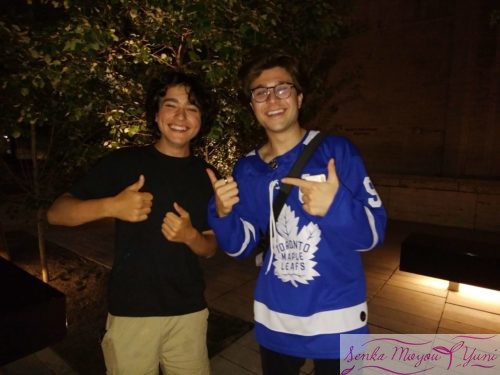 It was nice to meet everyone✨
I always listen to the piano and just applaud, but tonight I sang a song with everyone.
I can not play the piano but I can sing too.
We sang "Hey Jude", "My Way" and "I'm Standing".
I felt so glad that everyone was united by singing.😆
Patrick suggested to me to sing the Japanese song "Sukiyaki" along with his piano performance.
I wanted to give a gift to my friends in New York who were kind to me, so I sang loudly into the sky of New York.
When I watched the video that Fabio took, I was not loud enough, but the video became the best treasure for me.😍
Thank you so much Patrick!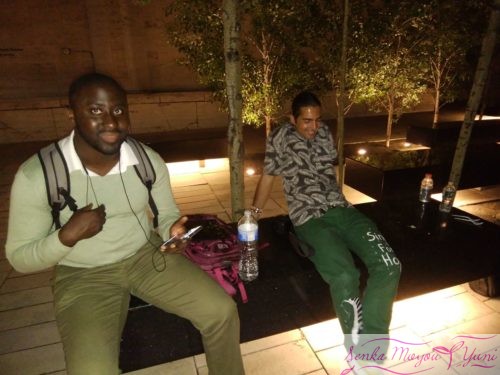 Fabio was really tired because we were playing late every night.🤣
Thank you Fabio!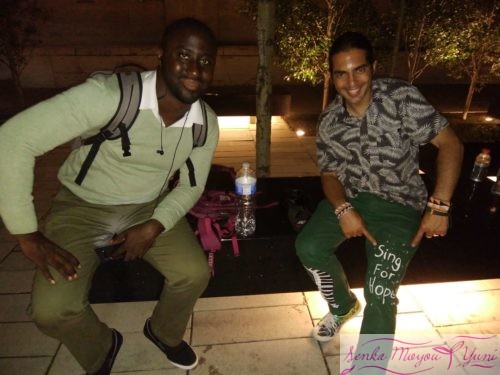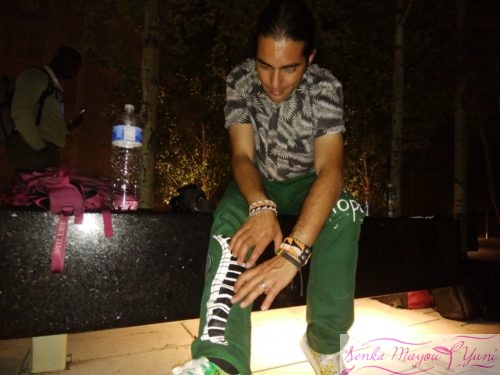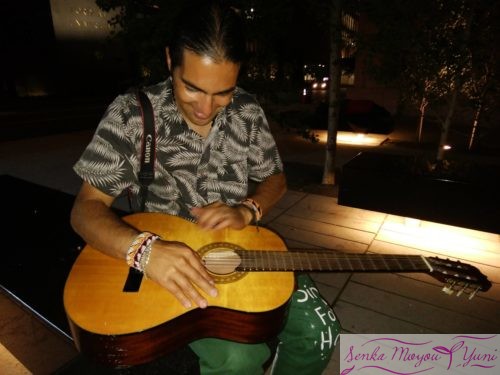 Tonight's new friends were Alex, Aamer and then Aamer's girlfriend✨
Please be friends forever I am honored to meet you.
Comment
---