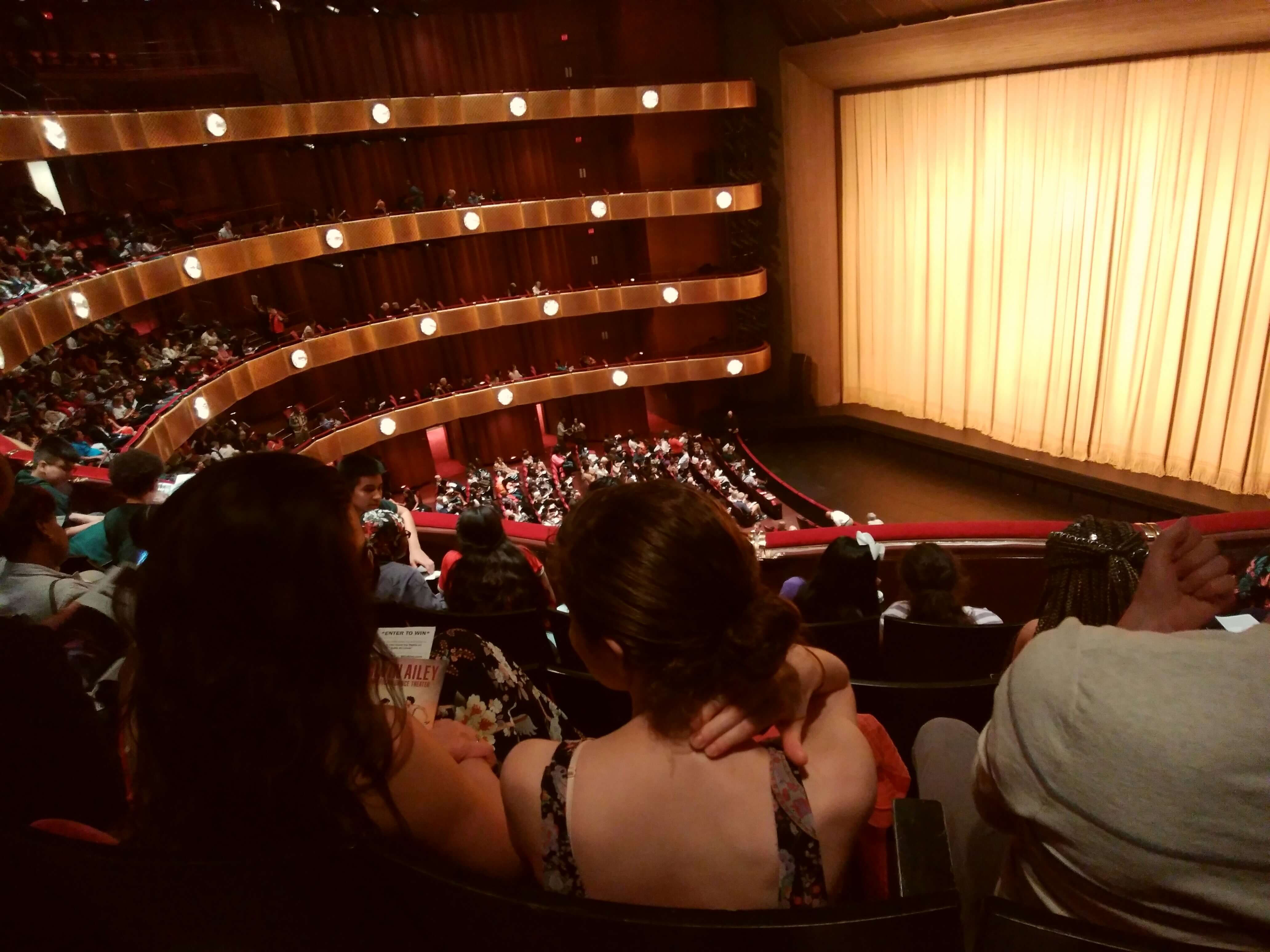 Trip to New York 15-museum & theater-

June 9-21 2019 in New York
New York Museum of Modern Art
2019/06/14, the sixth day of stay.
I will visit art museums from today.
First of all, I went to the Museum of Modern Art.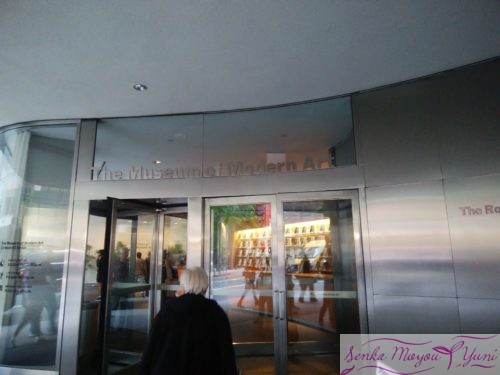 Entrance. At this time, I was thinking lightly that I would be able to purchase a ticket and enter normally.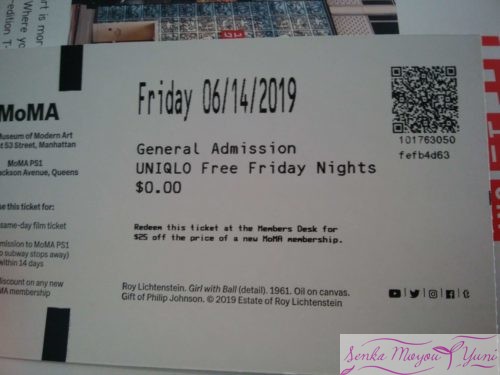 When I said that I wanted to buy an admission ticket at the reception, I got a free admission ticket.
It's really free! It seems that you can enter for free today at the "UNIQLO Free Friday Nights" event. We usually need to buy a ticket for $ 25.00.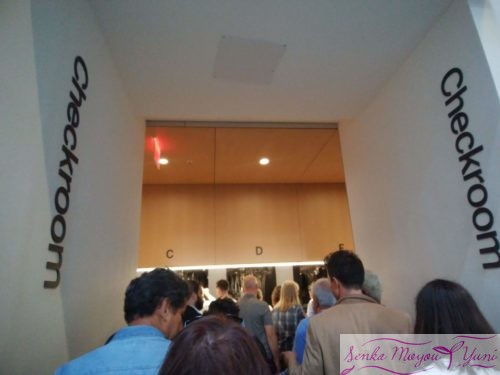 I tried to show the ticket to the staff at the entrance of the venue, but I was instructed to leave the baggage in Checkroom before entering.
I was surprised because I had never seen an art museum that has taken such strict security measures in Japan.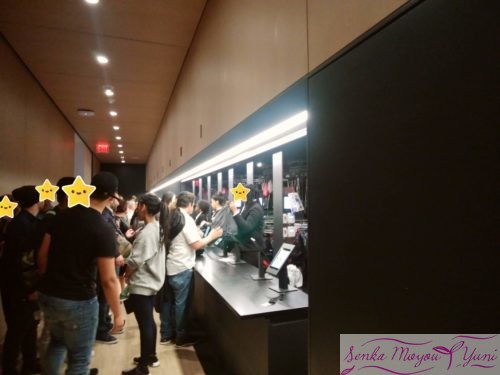 There was a reception desk up to A ~ J, and the staff guided me to the vacant reception desk. I go to the reception of A.
When we ask for return of baggage, we go to the same receptionist.
You will be asked to enter a phone number when depositing the bag, and you can receive it by telling the last four digits of the phone number when requesting a return.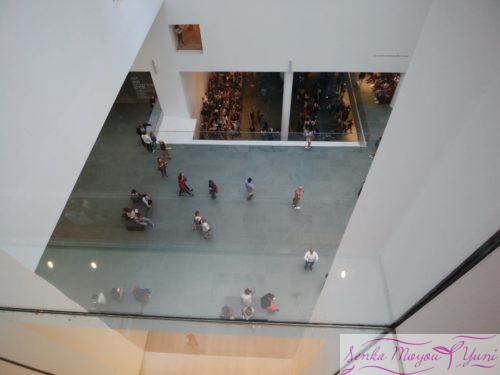 It is a check room seen from above. I have been in line for a long time, but still very crowded.
I have taken a lot of photos, but should I stop posting art on my blog?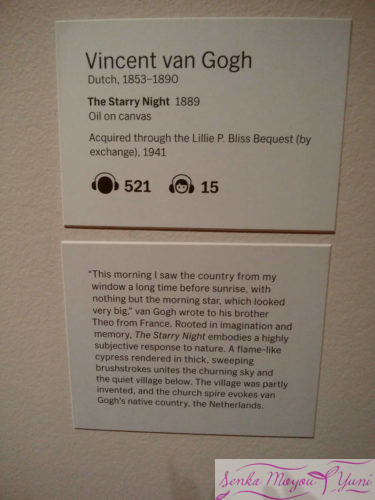 There was a crowd in front of The Starry Night in Vincent Van Gogh. Although various works are exhibited, the popularity of this work is by far the best. One person made a work known to everyone in the world ... it is really amazing.
I also draw illustrations, but I think my work is not so good.However, when I looked at the various works of the museum, I thought that it was interesting because various works were drawn with various sensitivities.
It may be wrong to determine the value of the work with someone's selfish values ​​for the work that people who produce the work have strong will.
David H Koch Theater
I have not made a reservation in advance, but I really wanted to see dance in New York, and I went to "David H Koch Theater" aiming for a ticket I could buy just before.
However, at that time, I did not know whether there was a ticket that could be bought immediately before.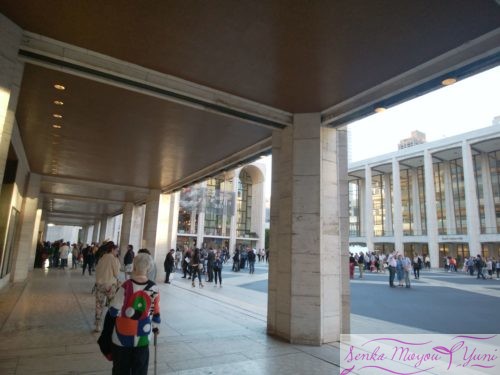 It was a building that I passed by many times when I just came to New York, and I was thinking about what kind of event the building would be used for.
And I found out that I could look at various plays and dances and listen to performances.
When I asked the guardman at the entrance if there were tickets available for purchase today, I was informed that I could purchase at the reception.
Before entering the theater, there was a baggage check. Open the bag and show the contents, then head to the theater reception.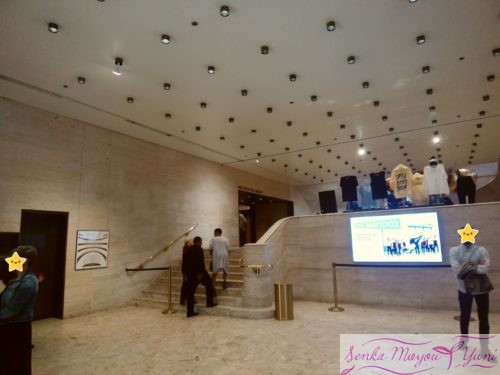 Speaking at the reception that I did not make a reservation in advance and I wanted a ticket on the day, it was explained that the seat of $ 33.00 was buried and the seat higher than $ 59.00 was vacant. Buy a seat for $ 59.00 and head to Third Ring.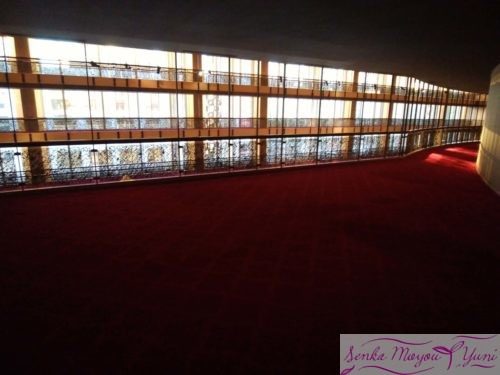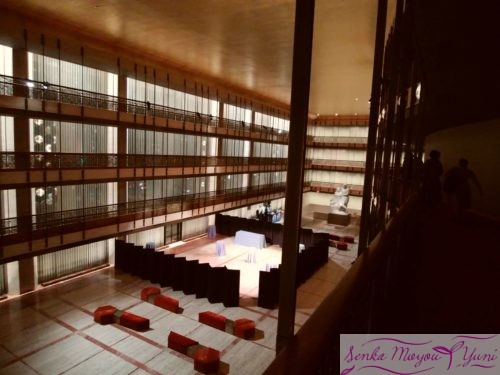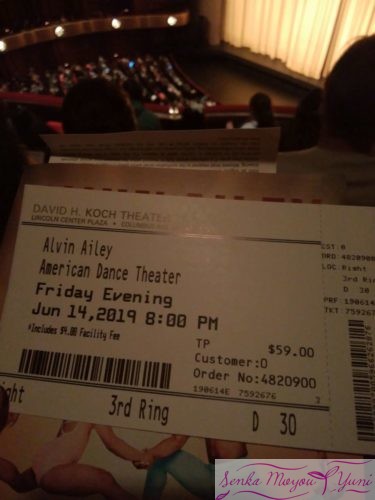 The program is「Alvin Ailey American Dance Theater」.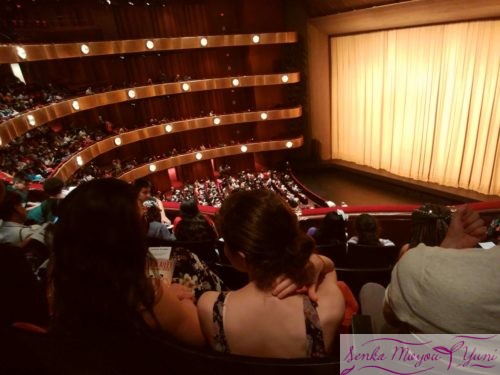 Third Ring is the seat on the third floor of the theater. It is the first time to enter such a beautiful theater.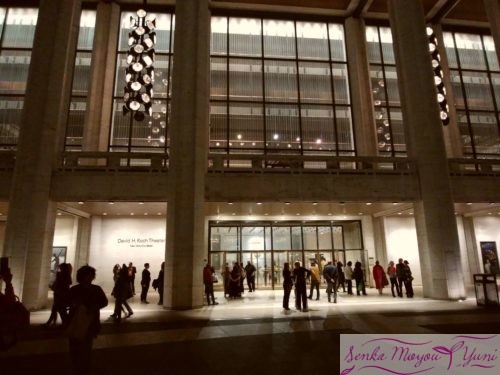 The dance was 40 minutes in one act, and it consisted of three acts in all. Acts 1 and 3 are relaxing songs and dances, and I liked the most exciting dance of Act 2.While clapping with the whole theater, enliven the dancer's performance. I feel a sense of oneness with everyone.
Actually I went to see without knowing what it was, but I was able to spend a very good time. It was good to go to see!
Comment
---